Being handed a device to use at work can be as tough and challenging as work itself. One of the biggest advantages of the Samsung Galaxy Active Tab3 is that it's easy to set up. With a few small tweaks that take minutes to complete, the device is ready to work and deliver results.
That means that frontline workers can hit the ground running and product immediately without wasting time on calibrating the interface.
General configuration
Notification buttons
It would be wise to remove what is not relevant (airplane mode, dex) and add what's directly related on top (flashlight or power-saving mode) so you could reach those instantly. By de-cluttering your screen you can make decisions and access important information faster.
Quick panel layout
You can turn off the devices and media button so it won't take up much of your screen space.
Home screen setup
Take advantage of widgets like weather and storage so you don't need to open the app to retrieve the necessary information. Additionally, evaluate how much you use each app on your home screen, remove the ones you rarely use and move up the ones you find yourself using the most.
Dark mode
Many people overlook the benefits afforded by the dark mode functionality. Turn on dark mode and save your device's battery life, as well as protect your eyes from unnecessary brightness.
Touch sensitivity
Working with gloves is an integral part of a frontline worker's job. Removing them every time you want to use your device can be frustrating. Enable the "touch sensitivity" function so you can keep working with your gloves. Even those without special touch screen fingers. Also, it would work in the rain or just when the screen is wet.
Answering and ending calls
Answer or reject a phone call while you have your gloves on with ease. Enable the appropriate options as shown below and get on with work.
Set up the Side key
Your side key can be set up for a quick launch of the camera, so you don't need to unlock your tablet to take photos. Access the camera with a double click, without having to unlock the device.
Set up the Active key
Much like the Side key, you can customize the Active Key to open the Frontu app with a single click.
Adjust your screen timeout
Make your screen timeout last a bit longer. Yes, it will use up more battery, but it will come in handy when you give the tablet to sign for a customer or in the case you need to follow specific instructions from the screen.
Set Home and Work on Google Maps

Google Maps gives you the option to save your home and work addresses so you will not spend a lot of time entering them each time. Those are the destinations you need on a daily basis and accessing them with a single click will make your life easier.
Lock your home screen layout to avoid accidentally moving or deleting apps that can disturb your workflow.
Notifications
Getting notified on time and in a style that fits your workflow is crucial to staying up with updates, feedback and changes that might occur along the way. Configuring your device's notifications can be a game-changer.
Notification Pop up style
Select the detailed notification pop-up style to get as much information as you can from your locked screen.
Flash notifications to keep you alert
If you always miss notifications, this tip is for you. Enable flash notifications and see your flashlight flash whenever you have a new notification.
Detailed notification on the lock screen
You can see detailed notifications even on the lock screen. Know everything that's going on while you are hard at work.
Notification history
Access all notifications and see the time and order they arrived on your device to ensure you haven't missed a beat.
Notification effect
Choosing the visual effect for notifications can affect how quickly you are informed about them and subsequently, how quickly you reply.
Notification colour by keyword
Colour-code specific keywords to know exactly where the notification is from. This is another feature that adds a layer and sense of urgency to your notification setup.
Notification reminder
Get reminded about notifications even when some time has elapsed. Select Frontu and the time frame you want to be notified and ensure you will never forget about a notification.
Pen to text – Handwriting recognition
Write with your s-pen on the screen and see the Frontu app recoginse your handwriting and convert it into keyboard text.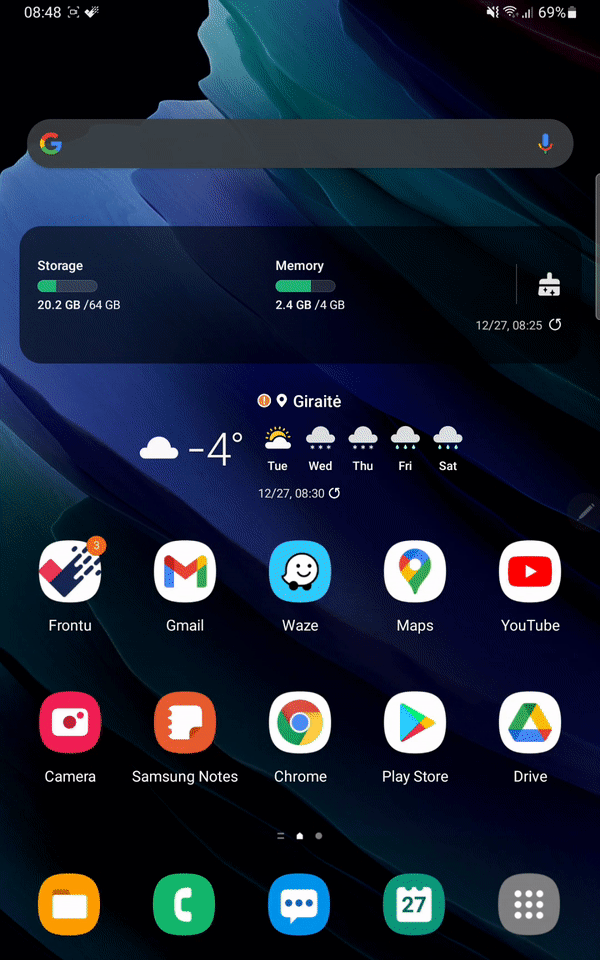 Security
Send your last location
Enable this option to ensure that if your device gets lost, it can automatically share its last location with the "Find My Mobile" server.
Fingerprint
Use your fingerprints to unlock the device. You can save up to two different fingerprints for more flexibility and ease of use.
Face recognition
If you are wearing gloves, the fingerprint option won't help. Thankfully, you have the So face recognition feature to save you the trouble. Using biometrics is the best way to bulletproof your device from unwanted access as well as make your life at work easier.
Text
Manage input languages
Add the languages you speak and need for work so that you can have access to them from your keyboard.
Auto spell check
Enable the spell checker, so you can write faster without any mistakes.
There is so much you can do with your device by slightly tweaking some settings. Hopefully, our guide has helped you optimize your use of the Samsung GalaxyActive Tab3.