We are all aware of oceans full of plastic and the global waste problem, but plastic isn't the only culprit for the climate crisis.
Paper and paper waste account for more than a quarter of the space in landfills. Each year, paper consumption is growing exponentially, which causes mass deforestation and excessive energy consumption.
The climate crisis affects every one of us. Although individual habits contribute to the problem, large businesses and manufacturers are the biggest timber consumers. Therefore it's important to contribute to building a more sustainable business environment.
A field service business also needs a lot of paper for workforce management and administrative work, but that's not always the best choice for a growing company that seeks to embrace more environmentally friendly practices.
In this article, we want to introduce you to the benefits of a sustainable business model. And what the modern and sustainable ways of running a field service business to reduce the environmental impact are.
Limitations of current business structures
The business landscape is rapidly changing. Many traditional ways of running a company nowadays are seen obsolete or even damaging to society and the environment.
The business has to be ethical, sustainable, and socially responsible. And that's not only a nice promise but a way to gain investments and future financing.
Before, it was common to perceive sustainability as something that limits business potential, but now sustainability translates to profitability. As more countries embrace sustainable practices, sustainable investments and business development goals lead the decision-making process.
Not only do regulators increase taxation and other requirements for non-sustainable businesses, investments and financing are also heading towards companies that embrace ESG (environmental, social, and corporate governance) factors.
But coming back to paper usage in field service operations, it's important to understand how it limits your business growth. Slow and ineffective processes, difficult paper distribution and logistics, information safety, and customer data privacy issues are only a few significant disadvantages of using paper.
Traditional business administration tools increase the need for additional human resources, raising risks of human error, losing documents, and of course, extra costs. Often the quality of information filled in paper documents is so poor it becomes impossible to identify data.
Storing and archiving such documents takes a lot of storage space and requires special security measures. To help your business grow and go paperless, it needs long-term digital solutions, a vision, and a plan to implement new goals.
Let's see what you can do to contribute to more environmentally-friendly business activity.
How can you start building a sustainable business?
We need more sustainable businesses and entrepreneurs embracing restorative practices. But many, especially established companies, are afraid to make the transition. They are worried about losing money or customers. But you don't need to transform your business in a night. When trying to achieve sustainability, even baby steps matter.
Sustainable vision
The word sustainability is often thrown around without any proof. But when you decide to embrace more sustainable practices, it's essential to know why and how you are doing this. Only when you have the foundation can you build an environmentally friendly business.
So think about how sustainability could complement your practice, where you stand and how you practice it. When your business is built with a sustainable vision in mind, it's easier to implement such practices along the way.
Ditching paper
Reducing your paper waste can be one of the most straightforward first steps towards sustainability. Businesses use paper for various operations, which not only increases consumption but also holds the company back.
You can try simple ways of reducing paper waste, such as digitizing your operations, using digital signatures, and equipping your team with the latest devices. This will lessen waste and improve service speed and quality.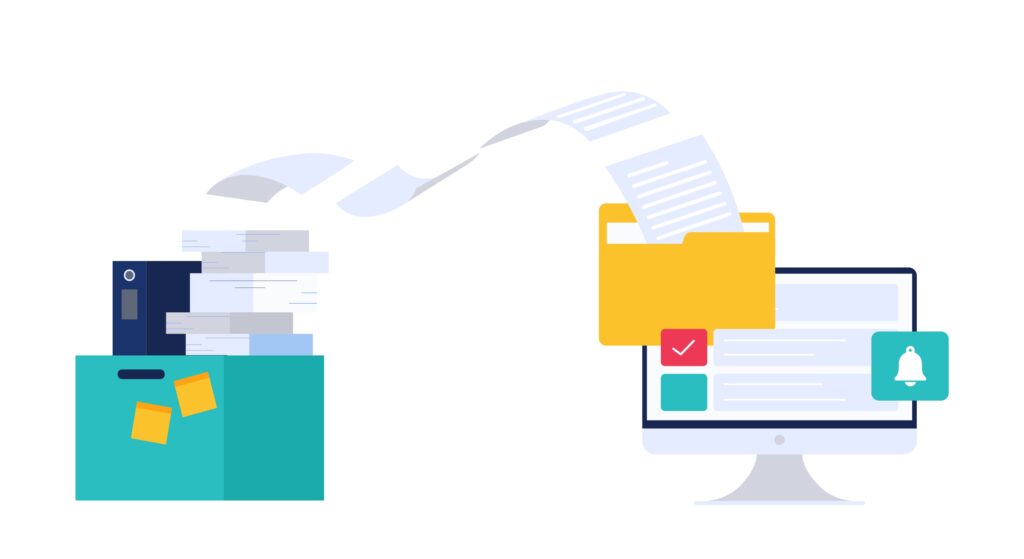 Implementing technologies
Digital solutions like field service management software, accounting and customer management tools, enterprise resource management solutions all work towards operation efficiency and reducing your carbon footprint.
For instance, FSM helps get rid of the paper and reduces energy and fuel consumption as you can plan tasks and routes based on the closest location and technician availability.
Embracing remote working
It's hard to deny the importance of a strong and prepared remote team with the current health situation in mind. Employees working from home and mobile field service teams are essential in running a sustainable and disaster-proof business. On top of that, a remote working model has environmental benefits.
Environmental benefits
Reduced energy consumption – fewer people at the office means fewer expenses on electricity, water, and other utilities.
Fewer commuting hours – commuting to work wastes energy, employees' time and can be stressful. A team prepared to work remotely can avoid long hours spent stressing about getting to work on time.
Employee satisfaction – remote working brings more flexibility and work-life balance. Although it takes time to find that balance, remote working can benefit employees' mental health and productivity.
Mobile teams – an empowered and equipped service team has more independence and freedom to perform tasks, increasing employee morale and satisfaction. Employees can also perform more efficiently with the right tools.
A successful case of a sustainable business transition
It would be just nice words if we didn't have some success cases to illustrate why sustainability is the leading element for success.
Automated and mobile tools such as FSM software can cut your paper usage and additional expenses for maintaining paper documents. Currently (the number is continuously growing), Frontu customers have saved 4130 trees. According to the Frontu calculations, each field service task accounts for approximately 1.5 pieces of paper, and it is a total of 175 tons of paper saved.
Digital field service management solutions can help you ditch the outdated pen and paper method to transform your business and jump the modernization train. With all your team's tasks, routes, and clients, communication with customers, and employee performance in one digital environment, you can reduce paper and energy waste along with developing faster and more effective task and time management.
We can't talk about sustainable business success without mentioning one of our clients, Konekesko.
Sustainable Business Success
"Konekesko Lithuania" is a machinery trade and service partner. In the first six months of using Frontu, the company saved over 20,000 euros, eliminated work backlogs, and minimized problematic situations. The savings total about 600 working hours during that time. Not to mention a positive impact on the environment.
Frontu FSM – the sustainable and eco-friendly field service solution
Sustainable field service management businesses and teams can only thrive with the right tools. Frontu FSM software guarantees easier employee management and increased workforce productivity. Our tool accelerates a sustainable business model and helps you take the market-leading position.
So, in summary:
Sustainable business is a profitable business. In the upcoming years, we will see more favorable conditions for such companies to grow as well as growing ESG investments;
You can't succeed in the current business environment without embracing restorative practices;
Sustainability starts with the small steps – start by ditching paper.
A sustainable and eco-friendly business isn't only about being trendy. It's necessary to build a stronger company and a thriving business.
Begin the transition to sustainability with Frontu – book a demo now!