Field service management is a multi-layered, manifold industry that even the most experienced players find hard to navigate. However, what sits at the core is a principle applicable to businesses of all sizes and industries – money that comes in needs to be more than the money spent.
How do you keep track of all the costs incurred? How do you ensure that you have all the information you need to make accurate calculations? Today, we will look into the industry-popular process costing system known as the job cost sheet and give you 5 tips on making the most of it.
What Is a Job Cost Sheet?
A job cost sheet is a document detailing all the costs incurred for the completion of a project. These costs can be documented during the project or after the job is complete. Usually, the accounting department compiles this record to:
verify that expenses fell within the allocated budget
cost estimate for future jobs
produce truthful and meaningful accounting reports
calculate the total costs of the company
Here is an example of the different things that could be found on a job cost sheet:
manufacturing overheads
operating expenses
direct material costs
direct labor cost
payroll taxes
overhead cost
While a job cost sheet sounds like a laundry list of expenses, it is so much more than that. First and foremost, customer requirements and industry standards drastically change the appearance and content of job cost sheets. What remains common across the board, though, is the necessity for accurate cost tracking.
This is an area where you can't afford to make any mistakes. The word afford is used in its literal meaning as a minor mistake on your job cost sheet can have disproportionate effects on your profit and loss calculations. Let's explain this with an example.
Imagine you are manually inserting the raw materials that are being used in this project on your job sheet. The total amount of materials is 324, and you accidentally miss one costing $o.10 per unit. By the end of the project, you have used 20,000 units. The project's actual cost won't be reflected in your final calculations as the $2000 cost from the missing units won't be incorporated.
Here's a job cost sheet template example: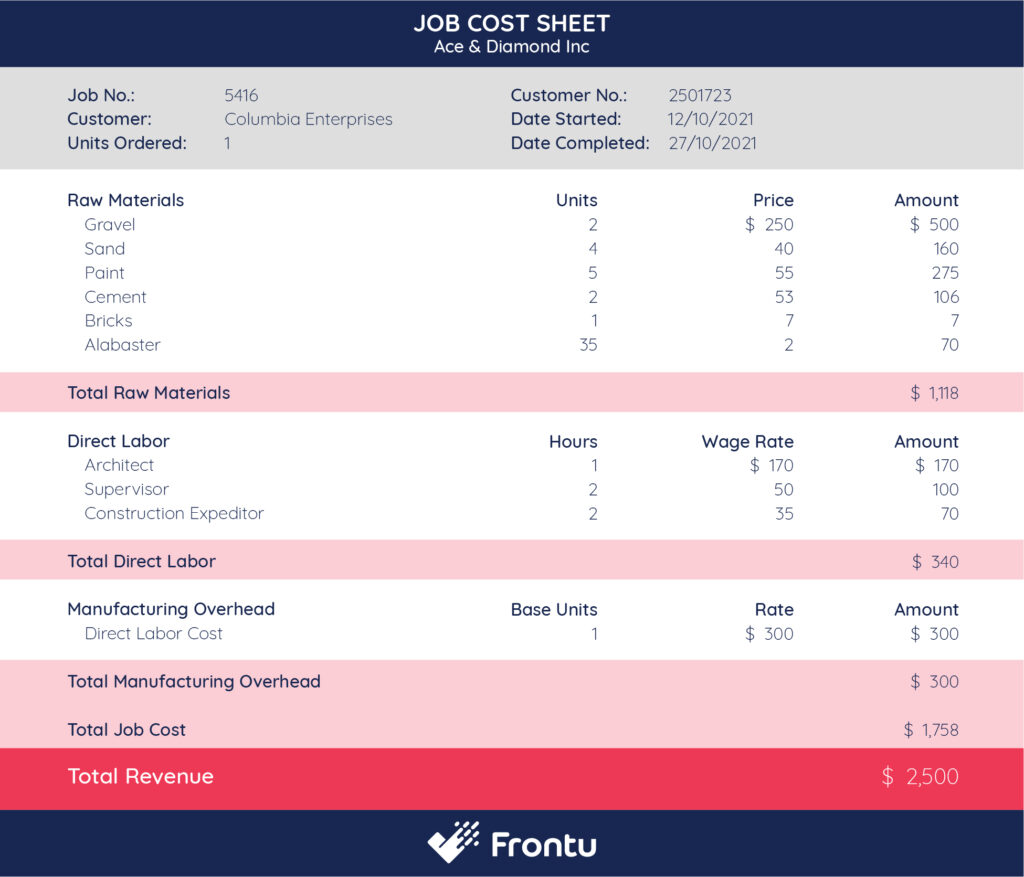 Your Job Cost Sheets Need To Go Digital
How do you avoid such mistakes? Do you create a separate job cost sheet for labor and overhead and another one for raw materials? Do you assign more people to ensure better record keeping? The answer is none of the above.
A job order costing system is a complex undertaking as it is and what you really need is to decrease human involvement and the possibility of costly mistakes. The only way to manage the entire job cost sheet process is to digitalize it. Centralizing this process on a powerful field service management platform is the only way to simplify it.
By moving your field service operations to Frontu, you can rest assured that your job cost sheet process will be safely saved on the cloud, retrieved with the click of a button, and contain all the information you need.
Extracting numbers such as total cost, estimated completion date, manufacturing overhead, finished goods, labor hours, or even a job description can happen automatically without pulling out calculators, pieces of paper, and endless hours of calculations.
Frontu features can make the job cost sheet one of the most powerful sources of information for your company, and here are 7 tips on how this can happen.
Convenient cost categorization
When creating a new task on Frontu, you have the ability to create unique fields and labels. That means you can immediately customize the task to reflect real-life names and values. Each project is different and you and your team need to communicate using the same language. Categorizing costs within the system gives you total clarity and transparency, leaving no room for error.
Track real-time changes
Tasks and projects are living organisms that change as time goes by. Customer requirements change, new feedback is incorporated, supplies run out, raw materials prices change and the cost sheet needs to change accordingly. Can you imagine keeping track of all this manually, while trying to deliver the actual job?
With Frontu, changes happen with a few clicks, costs are adjusted automatically and you don't have to worry about adjustments.
Run reports throughout the project
A traditional job cost sheet would see long columns filled with prices, units, and descriptions. As mentioned before, the function of a job sheet is not to merely calculate the total cost of a particular job after it has been completed. A job cost sheet can act as a guide, a plan that guides you to complete jobs with accuracy and precision. What that means is that you need access to results at all times. Here is an example of things you need to be seeing:
What's the cost per hour up to this point?
What's the current quantity of raw materials?
Is there a need for materials requisition?
What's the work-in-process inventory account?
What are the net margins?
What's the current count on direct labor hours?
As you can imagine, these numbers are products of calculations and it's not humanly possible to produce these numbers on a daily basis without some sort of digital automation.
Thankfully, Frontu allows you to run reports as often as you please. What used to be a process of tracking costs can be turned into a goldmine of information that can lead your project execution.
No need for separate timesheets
Nobody likes micromanagement and getting your technicians to properly record their labor hours has nothing to do with that. Knowing the exact time spent on an individual job is the only way to optimize the use of your resources, project when the job will be completed, forecast how many hours will be necessary for similar jobs in the future, and last but not least, cut costs.
Technicians using Frontu can complete their time tickets in real-time, creating a live activity base into the system that can prove to be invaluable for the management team. Materials cost and labor hours are now in one place for your ease and convenience.
Give your customers fair pricing
If you don't know how much it costs to complete a project, how will you know what to charge your clients?
Overpricing can push customers away and underpricing can hurt your profit margins. Both scenarios are the ingredients of a non-sustainable business. Running your job cost sheet processes through Frontu can help you develop honest and long-term relationships with your customers.
Being able to track estimated costs, revised estimates, and post-project costs on individual jobs can help you give customers a fair and transparent price.
Conclusion
A job cost sheet is not what it used to be. It's an idea that has been evolving over the last couple of years and the biggest factor contributing to this evolution has been digitalization. Field service management systems are changing the entire paradigm of conducting operations.
Direct labor, direct materials, job number, goods sold, raw materials, manufacturing overheads, and all the information you could find on a cost sheet or a subsidiary ledger are now centralized on a single platform.
Do not hesitate to contact us to ask us any job cost sheet-related questions or any other questions regarding Frontu and how it can help your business achieve its goals.